Info
Expansion items are now on time-sale!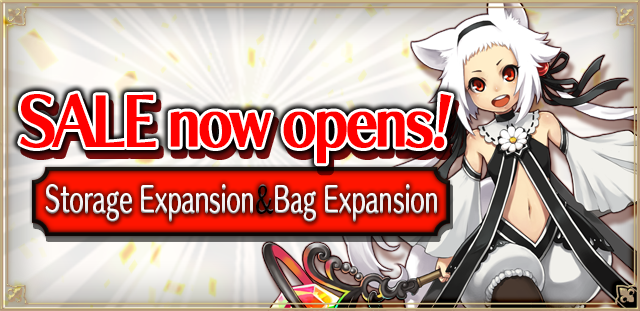 We will be holding bargain for better deal Expansion items for limited-time, that are useful for Alchemia Story!
Don't miss this chance!
Bargain Sale Session
Start: 2018/08/15 (Wed) After maintenance
End: 2018/08/22 (Wed) Before maintenance
Line-ups for bargain!
"Storage Expansion +5"
Gems:
300 → 

200

"Storage Expansion +50"
Gems:
3000 → 

2000

"Bag Slot Expansion"
Gem:
300 → 

200
Where can I buy expansion items?
Expansion items will be on sale at the Shop!
How to go to Shop:
Tap "≡" on left-side of the game>Tap "Shop" on left-side of display in the Menu>Tap "Shop" on down-right of the display.
Warning
The effect will be directly reflected after you purchase the item, not through receiving them from present box.