Info
The 1st Part of the Main Story Completes on 7/28! RT & Login Bonus Campaigns Start!

We're planning to update the Main Quest during the maintenance on July 28, 2021 (Weds).
This update will conclude the first part of the main story, so we'll start a retweet campaign in advance!
Everyone will receive great prizes based on the total number of RTs!
Once we reach 1500 RTs, everyone will get a
"LR Weapon x10 Lotto Tix"! Maybe you get lucky and win LR weapons?!
Also, we'll be holding a lottery among everyone who joins the RT campaign, and
10 lucky winners will get "3000 Gems"!
From July 22, we're also having
a "Login Bonus Campaign" where you can get items, such as Lv10 Core Box and 600 Gems!
We're looking forward to your participation!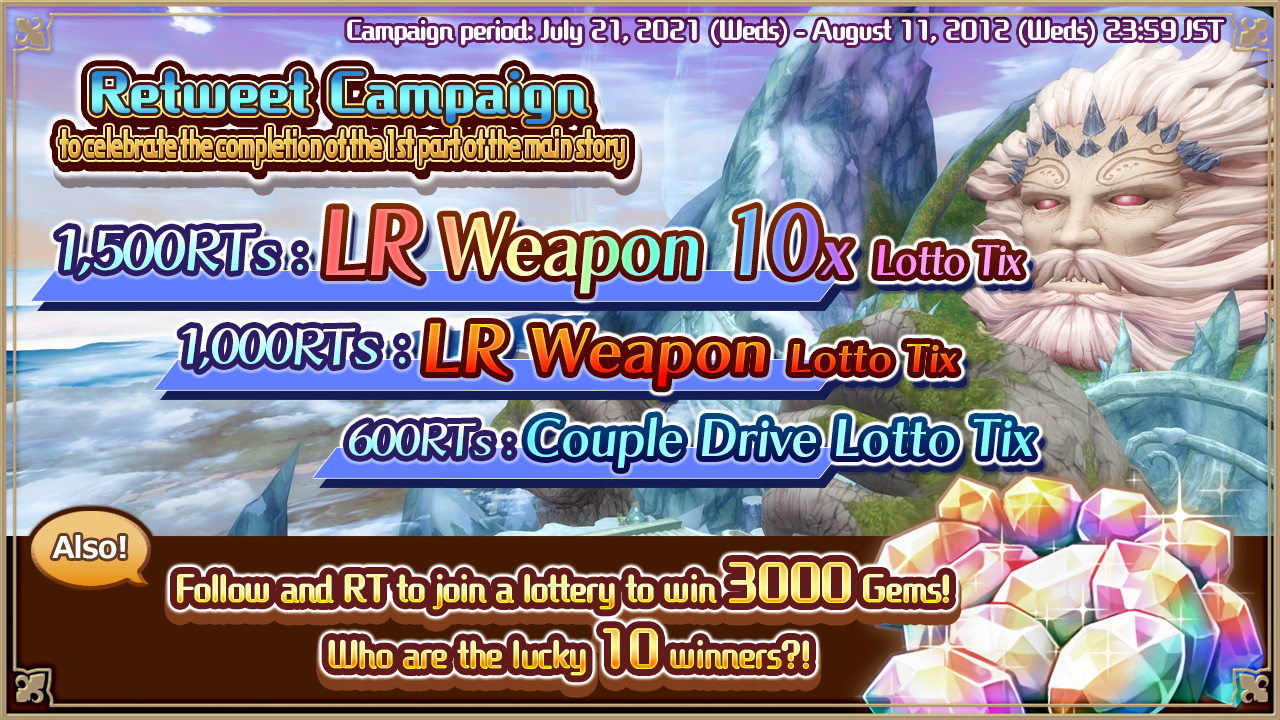 Campaign Period (JST)
Start: 2021/7/21 (Wed) (After posting our tweet)
End: 2021/8/11 (Wed) 23:59
RT Bonus
Present Distribution
We're planning to send them at the end of August 2021.
Campaign Summary
We will select 10 people by lottery from the users who retweeted the tweet to receive 3000 Gems!
How to join
1. Follow Alchemia Story official Twitter account (@
alchemiastory
).
2. Retweet our campaign Tweet.
<Find the Campaign Tweet here!>
Notes
※Only winners will be notified of the lottery results by the official Alchemia Story Twitter account.
※Winners will never be contacted by anyone other than the official Alchemia Story Twitter account.
※The information we receive will be used in accordance with our 『
Privacy Policy
』.
※Please note that the period and details of the campaign are subject to change or cancellation without notice.
※We are not responsible for any problems related to this campaign or prizes.
※If trouble occurs between users and third parties about this campaign, the user shall resolve it at their own responsibility and expense, and shall not cause any damage to our company.
※We will not be held responsible for any damage caused by this campaign, except in cases where the damage is attributable to us.
※If we deem it necessary, we may change these guidelines and other information, and may take any action necessary to ensure the proper operation of this campaign.

Login bonus to celebrate the completion of the 1st part of the main story
Log in once a day during the period and get useful items, such as
Gems!
Lv 10 Core Box
is also included in the login bonus items!
You can get the login bonus for up to 10 days during the period.
Dates (JST)
・Start: 2021/7/22 (Thu) 0:00
・End: 2021/8/11 (Wed) 23:59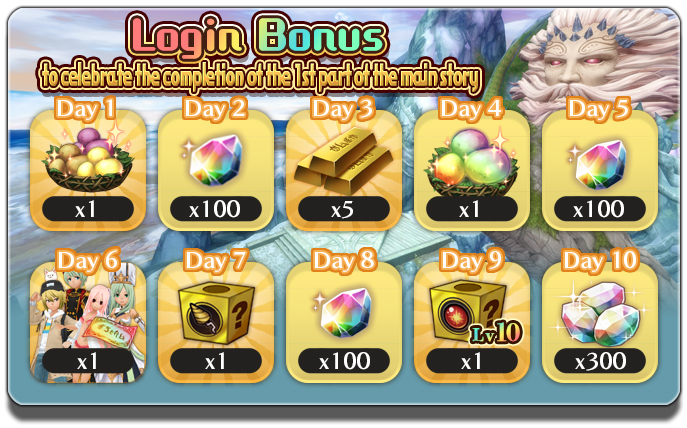 Days
Item
1
Luxury EXP Potato×1
Luxury Hunting Potato×1
Luxury Gold Potato×1
2
Gems×100
3
Gold Ingot×5
4
Aurora Potato×1
5
Gems×100
6
UR Ability Armor G Tix×1
7
Master Drill Box×1
8
Gems×100
9
Lv10Corebox×1
10
Gems×300