Info
Get Special Login Bonus! Celebrating our Collaboration with Toram Online!
This is Alchemia Story Operation Team with news!
In celebration to our collaboration with Toram Online, we're offering a luxurious "
Toram Online Login Bonus
" for 10 days!
Dates(JST)
Start: 2019/9/26(Thu)0:00
End: 2019/10/9 (Wed) 23:59
Campaign details
We will hold a campaign "Login bonus to celebrate a new feature" for 10 days!
You may get maximum of 10-days-worth of log-in bonus during this event.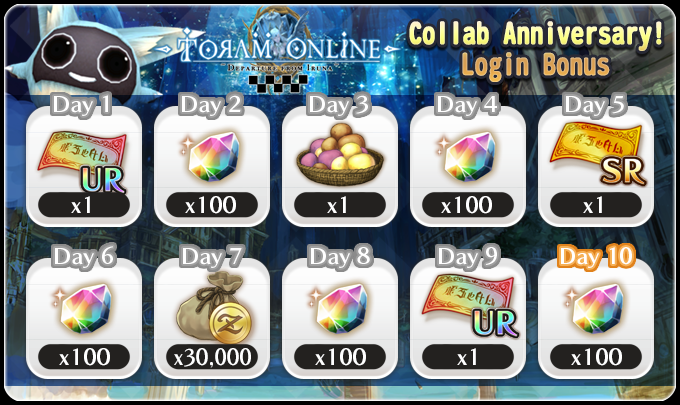 Day
Prizes
1
URWeaponLottoTicket×1
2
Gems×100
3
GoldPotato×1
HuntingPotato×1
EXPPotato×1
4
Gems×100
5
Over-SRArmorLottoTix×1
6
Gems×100
7
Zell×30000
8
Gems×100
9
URArmorLottoTicket×1
10
Gems×100
Warnings
※There may be changes in even session without notice.