Info
Limited-time-only! Single Payment Campaign now open!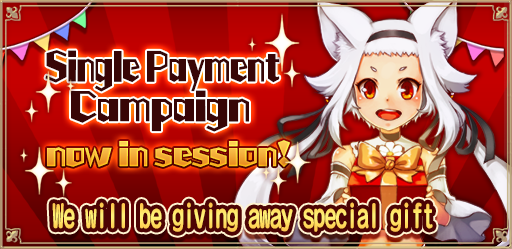 This is the Alchemia Story Operation Team.
We will hold Payment Bonus Campaign in which bonus Unpaid Gems will be doubly granted if we make specified payment on during the campaign!!
Dates (JST)
Start: 2019/9/25 (Wed) after maintenance.
End: 2019/9/29 (Sun) 14:59
Payment Grant Campaign
When you purchase following settlement during the period, Gems will double for every one-time payment!
Payments
・
9800 Gems purchased: +5400 Unpaid Gems Bonus
・
4800 Gems purchased: +2000 Unpaid Gems Bonus
・
3000 Gems purchased: +1000 Unpaid Gems Bonus
・
1400 Gems purchased: +200 Unpaid Gems Bonus
Warnings
※During this session, it will only be given at the first time.
 You will not given with additional bonuses after buying it second time.
※Additional bonus materials are given after the payment.
 ┗Purchasing 1400 Gems and 3000 Gems
 ┗Receiving item: +1200 Unpaid Gems