Contact Us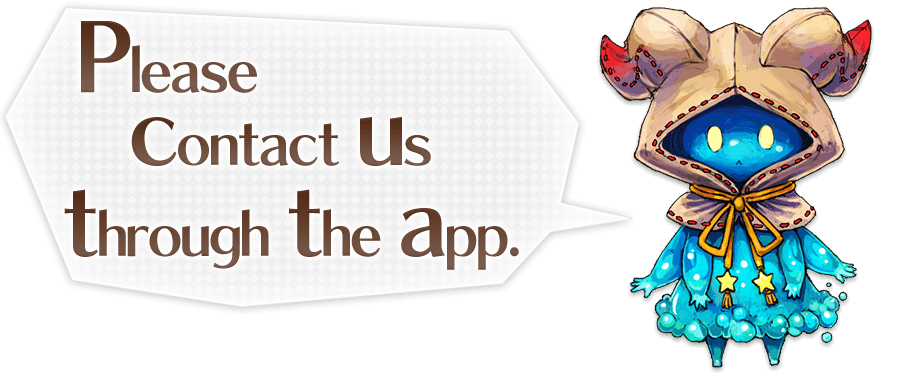 If you contact us from here, we cannot confirm your identity.
If you can log-in to our app, please contact us through the email form in the app.
Notice before Contacting Us
Rules to Contact Us
1.We do not respond to any inquiries about how to complete a game. For other inquiries apart from how to complete the game, we might not be able to respond to you depending on your inquiries.
2:We might need time to respond to your inquiry. Even if you specify the due date of our response or immediate demand, we might not be able to satisfy them.
3:Our response will be sent to an individual. We prohibit you to reprint our response without our permission or for secondary use.
4:Depending on the detail of your inquiry or if our email cannot reach you, we might take another means to contact you.
5:For inquiries regarding violations, we take proper action based on details. Depending on the details, we might not be able to respond to you. Whether we respond or not, or about details, we do not notify reporters.
6:If you mention several inquiries at once, we might need to take more additional time to respond to you. For our smooth response, please contact us with just one inquiry at a time.
Please accept the above support policy and then contact us by email at the bottom of the page.Your kind understanding and support are highly appreciated.
Categories
After sending your inquiry,
please check if you have received the auto reply email from the Alchemia Story support team
in your input email address.
If you do not receive it, you cannot receive our response either. So please check as below:
・Check if the message dropped into your junk email box.
・Check if the receiving settings are set to be able to receive from a domain: @alchemiastory.jp
・Check if your input email address was correct.